Posted by Sarah on October 5th 2009 in blog
Introducing….the Sunny Bus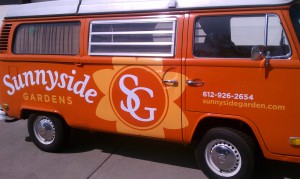 My new friends here at Sunnyside have been getting on my case to get online and write you some choice words introducing myself.I admit I'm not one for the cell phones and these internets, but like Jimi Hendrix and chicken cordon bleu, I can dig it
I rolled off the line in 1973 – the same year George Foreman beat Joe Frazier for the heavyweight title, Marlon Brando won the Oscar for the Godfather and a computer was the size of a living room.Now Brando is gone, Foreman's selling grills, and I'm writing this on a laptop – but guess what – I'm still trucking.I admit I've "had some work done" but nothing beyond a little engine retooling and a new orange paint job.And hey, if you had as many miles on you as I do you'd need a little work too.My odometer maxed out at 99,999 miles a long time ago but considering what I've experienced, let's just say I've been there and back, baby and I can still go from 0 to 60 in only six minutes.
I've spent the last two years parked up on the North Shore outside Duluth – serene but boring, I enjoyed the scenery but seldom had my engine revved.When I saw Mike and Sarah in their Sunnyside orange I knew it was destiny – and from the moment Sarah turned my key I knew I had found a new home.The wind was blowing something fierce that day, my friends, and poor Sarah was so nervous that I would tip over she nearly fainted, her legs quivering as she switched my gears for the first time in years.
Pulling onto the Sunnyside lot for the first time was a cosmic experience.The colors, man, the colors- from the shinning pottery to the bountiful and bodacious flowers it was as if I had been transported back to the innocent age of my youth.I had finally arrived home at a place where flower power is still in full effect.
Come on by and meet me in person here at Sunnyside or at one of the "Meet-ups"Mike and I are putting on.Last month we drove to Lake Harriet and gave away free mums.At first I thought, Mike, man, giving away mums for free!But seeing all the smiles and the fun people were having only reinforced my notion of the Flower Power emanating here at Sunnyside.
Share This Article: