Posted by on June 15th 2012 in blog, News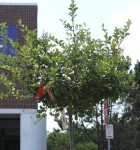 Last week I had the pleasure of helping an English as a Second Language class at Edison High School in Minneapolis plant an Korean Dwarf Lilac Tree. The 16 students and their teacher, Ina Zeigler, learned about Wangari Maathai recently. Maathai won the Nobel Peace Prize in 2004 for her work in sustainable development, democracy and peace achieved by the participation of the common people. She also planted thousands of trees across Kenya.  Maathai's  award is noteable because she was the first African woman and the first environmentalist to ever win.
Ziegler's students are a spectacular group of kids that are eager to learn about culture both locally and internationally. Their individual backgrounds hail from Somalia, Sudan, Ethiopia, Mexico and Kenya. In May, Ellen Kennedy, Executive Director of World Without Genocide, spoke to the class about human rights. The students told her that they wanted to plant a tree in honor of Wangari Maathai', however there was no funding available.
I'm a volunteer photographer for World Without Genocide. Ellen, knows that I work at Sunnyside Gardens, so she reached out to our garden center to request a donation of a small tree that the students could plant in honor of their person of study. Sunnyside Gardens graciously honored the donation.
My personal participation didn't stop at helping the donation process along. Ellen and Ina wanted me to also help with the actual planting of the tree. Of course, I was more than happy to! Ellen brought along a couple shovels, a bag of mulch and a bag of soil. I started the hole, and Ina's students pretty much took over. They were happy to dig into the dry, hard soil. Thrilled to get their hands dirty and ruff up the roots of the lilac to get it ready to plant. The students found it fun to fill the hole back in with dirt. They got into a small argument about who got to pour out the mulch as the final touch to the planting process. They agreed that whoever wanted to help put down the mulch, would get to, each of them, little by little.
The whole process made for a memorable experience, for me and for all involved. I would like to think that Wangari Maathai would be proud. I feel that the students took away something meaningful too. If they want to make a difference in their community, in their world, they could. As a team, or as an individual, one project, just one tree, at a time.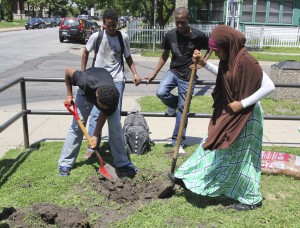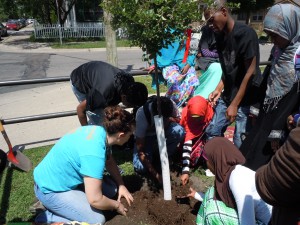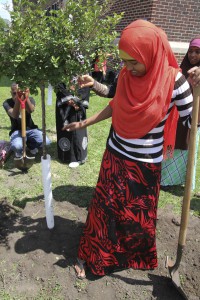 ]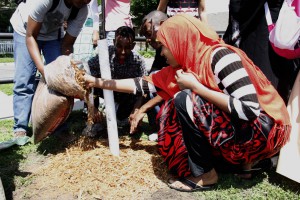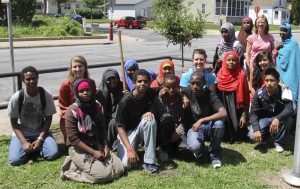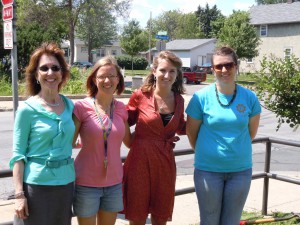 Share This Article: