Posted by Sarah on August 30th 2016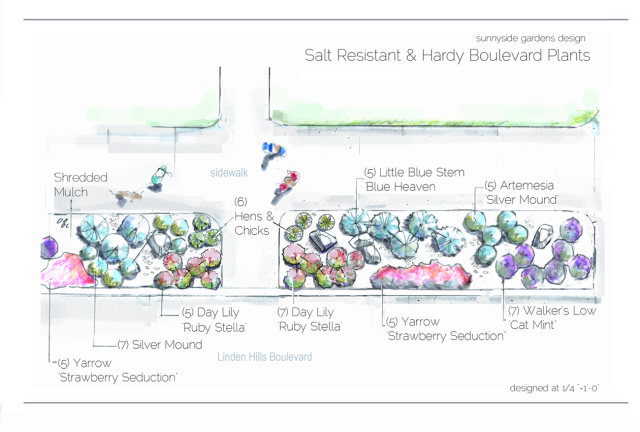 The Question:
How do I begin selecting plants for a garden along the street?
Our Answer:
Here's a simple boulevard design to help you get started transforming your long grass patch into a practical, salt tolerant, weed proof garden. Start with a sod-free, clear area.  Turn the soil and amend with compost.  Set out your plants, per the design.  Take a pre planting pause to make sure you like the look of things and that you think the spacing is appropriate for plant growth.  Dig the holes in your nicely turned soil and water in your plants as you plant them.  Use a root stimulator/fertilizer at the time of planting to give the plants a real boost. Lastly, add shredded MULCH up to 3"-4" thick to keep weeds away and to make your boulevard garden truly low maintenance. The plant list above is one that allows for substitution.  Choose different colored achillea or switch out the little blue stem grass for another that suits your fancy. Good luck!  Stop in for help with this or any project you have in mind.
Share This Article: