Welcome to Sunnyside Gardens!
Home of Quality Plants & Service since 1935
Sunnyside specializes in custom container plantings. Call today to schedule our designers to visit your home 612-926-2654.
You have questions, we have answers. Let us know how your gardening experience is going.
When you own a bustling garden center like Sunnyside, you get introduced to a lot of neat plants, products and ideas.
Blooming in a garden near you!
This week in the garden.  The first week of July is upon us, what do you see?
What's blooming around town is here in the store.  Bring us photos of your favorite plants as you cruise around Minneapolis—we can ID your pics and help you select the same samples for your home garden.
You've been seeing a lot of white pom poms that are the signature of the traditional Annabelle Hydrangea, there are tall spires of blue delphinium (July birthday flower) covered in butterflies, and all sorts of other budded perennials just itching to bloom.  This is Minnesota summer at the beginning– the heat and sun have arrived here for your enjoyment and your plants' too.  July-Sept are your garden's months to shine and there are ways to extend the show of blooms by adding more plants with a more varied bloom schedule.
The perennial plants you overwintered have been storing up energy in their roots for months and months just to put on a show for you.  Feed them and water them—mature plants will bring you the biggest color.
Planting healthy plants and watering daily is the key to successfully planting summer perennials and shrubs.  In the garden center we will encourage you to fertilize, soil amend and frequently water anything that's new to your plot.  Healthy beginnings will result in overall happy gardening.  Find the most beautiful, healthy plants you can get your hands on in the Sunnyside yard–we are here to help with your plant selection.
List of blooming NOW, or SOON to be blooming:  NOW–Shrub roses, Annabelle Hydrangea, Geranium, Achillea, Dianthus, Thalictrum, Penstemon, Salvia
SOON- Gaillardia, Coreopsis, Nepeta, Phlox, Coreopsis, Asclepias
Sunny Penstemon Peonies Phlox Dianthus Rudbeckia Perovskia Salvia Sedum (above) Scabiosa Lamium Yarrow   Shady Sedum (or sun) Cinnamon or Ostrich Ferns Hosta Painted Fern (above) Daylilies Geraniums…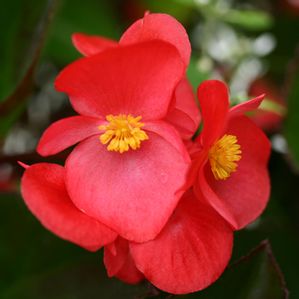 The big begonia.  It's always a big deal.
Store Hours Everyday 9am-8pm
Sunnyside Gardens has been voted one of the Revolutionary 100 garden centers in America by Today's Garden Center
Gardening and seasonal decorating stuff. A great gift for gardeners and non-gardeners, alike!