Japanese Beetles are in town!  Have you noticed some of your garden plants may look chewed and lacey?  Or have you seen clusters of flying beetles settled on certain ornamentals?  More than likely you have Japanese Beetles.  They emerged from the ground in the last few weeks to wreck havoc in the garden.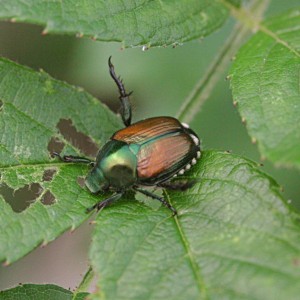 Japanese Beetles, or Popillia Japonica, are metallic green beetles with bronze wing covers. They chew on shrubs, vines and many other ornamentals, skeletonizing or defoliating them completely.  So, how do you get rid of them?  The answer is two fold- control the adults, which you can see now and control the grubs, which you won't see until next season.  The adult beetles on your plants now are busy feeding and breeding.  They lay eggs in the soil which grow into grubs that feed on the roots of your plants and grass.  Treat your lawn and garden now or through early fall and you should see less beetles emerge from the ground in Summer 2012.
Stop by Sunnyside and our staff can recommend the right Japanese Beetle controls for you.  We carry natural, organic and chemical controls that can save your plants from these pesky garden invaders.