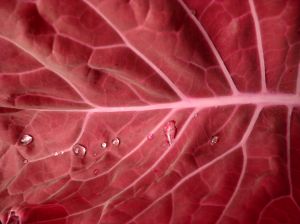 For several weeks now Turnip Rock CSA has been dropping off veggies at Sunnyside for our local CSA subscribers.  Friends know me best as a pretty unrestrained eater, so as a result I have taken a very active role in trying to find new ways to consume all the lovely organic veggies that keep landing in my fridge.  Recently I have a been craving red cabbage and find myself hoarding the heads of red that come each week.  What do I do with them??  Well, it's been cabbage soup.  Lots and lots of cabbage soup.
One large yellow onion chopped
4-6 cups of thinly chopped cabbage
Lots of pepper
2-6 small potatoes
Some carrots sliced into thin wheels
Salt to taste
–Sautee all and add water to cover the veggies by about 1″-2″ Cook for 20min or until potatoes are soft.
OK, so this is really good for you and this is something that can be heated and reheated over and over again.  My girlfriend, Kari and I found that adding a spoonful of sour cream (loaded with chives and garlic scapes) can turn the plain ole cabbage soup into something absolutely unbelievable.
Try it and let me know what you think! Also check out the Turnip rock blog to find out what's in the box.