Sooner or later all houseplants need to be repotted and early spring is an excellent time to do so because the increasing amount of light coming through your windows will help the plant acclimate to its new digs and spur growth.  Repotting gives the plants roots more space, increasing their uptake of nutrients and prevents the plant from becoming 'pot-bound' – when the roots of the plant become a packed, entangled mess that prevents growth.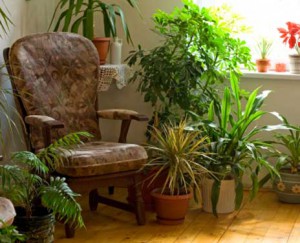 In general, houseplants should be repotted once per year, although larger houseplants such as Ficus or slower growing plants can be repotted every other year.  The most obvious sign that a plant needs to be repotted is when you begin to notice roots emerge on the surface of the soil, or if you see roots peeking out of the drainage hole of the pot.    If your plant has stopped growing or is growing very slowly, most likely it is pot bound.   Remove the plant from the pot and inspect – are the roots coiling at the bottom?  If so it's time to repot:
Start by selecting a pot roughly one to two inches larger in diameter and one to two inches deeper.  Refrain from choosing a significantly larger pot, not only will this most likely look silly, a huge pot gives the roots too much room to grow – the top of the plant will not grow until the roots have filled the pot.  Remove the plant from its existing pot carefully – if the plant won't budge insert a knife or trowel around the edges of the pot to loosen.  If the roots have coiled at the bottom loosen them, and if the roots are really long consider trimming – this will not hurt the plant and will encourage new root growth.    Partially fill the container with new, premium potting mix, such as Miracle Grow and then center the plant in the pot.   Then fill the edges with soil.  Water thoroughly to moisten the soil (generally I bring the entire pot to the sink and let water flush through the pot three to four times), if this has caused the soil to receded, add more potting mix.
And that's it.  Return you plant to its eye-catching location and watch it thrive with a regular watering in its new digs.