Perennial of the Week: Russian Sage (Perovskia atriplicifolia)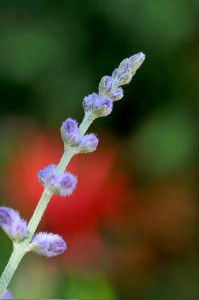 I tend to get excited about Russian Sage – after all, where can one find a perennial that gets up to four feet tall, features huge clusters of airy blue flowers, is super hardy to Minnesota, attracts butterflies,  is drought tolerant and blooms from late June into fall?
Perovskia is neither Russian nor a sage…
Native to Afghanistan and Tibet, Russian Sage was named for Russian general V.A. Perovsky.
The plant is as graceful as its botanical name is unpronounceable. With an upright growth habit Russian Sage produces a slightly woody, almost shrub-like look, with attractive grey leaves.
This spectacularly performing perennial does great in hot dry locations and, once established, can go without water for some time.
Russian Sage is remarkably unbothered by pests or diseases and is markedly deer resistant.
Good companion plants include Black-eyed Susans, sedums, ornamental grasses, coneflowers and Joe Pye weed. In my garden I have several three year old Russian Sage plants providing the backdrop for Rudbeckia 'Goldstrum' and groundcover sedum, creating a killer look that blooms mid-summer.
Sunnyside is featuring store-grown Russian Sage in large 2 gallon pots for an instant and established addition your garden. Russian Sage is THE ideal late-season perennial garden filler!