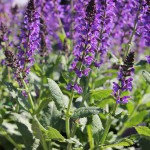 A common question we've been getting is how perennials make the "Sunnyside best" list. The short answer is that these select perennials are tried and true, hardy varities that can withstand the winters in the Midwest. To dig a bit deeper, when these perennials are grouped together into a garden the gardener can enjoy a near full season of color, be it in blooms or unique foliage.
In the Spring, one can expect the cropping up of Hostas and Alchemilla. These awesome foliage plants are low maintenance, and make for great ground-cover in those shady areas of your yard. For some color and variation between the greens and whites of Hostas, plant a few Tiarella's 'Iron Butterfly'. Tiarella is a shade loving perennial with fluffy blooms that contrast beautifully with its rich green foliage. The Viola 'Black Magic' is a great early season bloomer that fits in nicely in borders and containers. This selection tolerates sun or part shade, and blooms off and on throughout the summer.
Need to get your color fix as soon as May? Done. Lychnis 'Orange Gnome' is great for full sun, and has fantastic bright orange blooms that will last through June. Salvia is also great for a blast of purple that will stay steadfast through mid-summer. Group Salvia together along borders, or as a rich purple accent to a pre-existing perennial bed.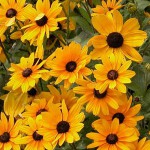 Early summer is prime-time for many perennials to make their appearance. There are plenty of plants that can be flexible with full to part-sun. These include Artemisia, Dianthus, Achillea, Gaillardia, Rudbeckia, and Nepeta. Artemisia is a great accent plant in full-sun perennial beds with its silver foilage. Dianthus comes from the Carnation family and often have two colors to one flower. Achillea is a great low-matience plant with bright colors that can add a delicate pop to a garden bed. Gaillardia have a wide variety of colors, compact habit, and will become a fast favorite! Nepeta may fool you to be salvia with its purple upright flowers, however it is actually a natural catnip! The common behaviors when cats sense the bruised leaves or stems of catnip are rubbing on the plant, rolling on the ground, pawing at it, licking it, and chewing it. And who could go without a little bit of Rudebeckia 'Goldsturm', or commonly known as Black-eyed Susan? These long lasting blooms add a great, bright yellow color to any spot. Their foliage appears in the Spring, but they'll keep you waiting for their long lasting blooms until about June, then keep blooming up until the fall.
The perennials in our "Sunnyside best" sale also include some mid-summer bloomers such as Echinacea 'Magnus' (a striking purple-pink Coneflower) and Day-lilies including traditonal Midwest favorites as the rich, Cabernet colored 'Baja', bold gold colored 'Happy Returns' and 'Stella de Oro'. Hostas finally take their spot in the spotlight as well with their beautiful lavender or white blooms.