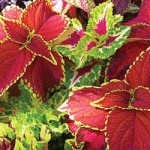 "Trying to describe the many colors of Coleus is like trying to describe the Grand Canyon. You can't do it justice in words alone, it is one of those things you really have to see for yourself." – Chris
Looking for that perfect foliage plant for your container?  Or a splash of serious color in your garden?  Or an instant solution to that tired looking focal point in your garden?  Think Sun Coleus.  With our huge selection of Sun Coleus here at Sunnyside, we have a serious color solution for any gardener.
Discovered by Karl Blume in the 1820's on the Dutch colonial island of Java, Coleus (Solenostemon) quickly became popular in Victorian English gardens – where excitement over new varieties led to exorbitant prices at plant auctions.    Unfortunately the early Coleus trend waned as gardeners lost interest in the limited varieties, and Coleus became relegated to the shade garden, where the Wizard Series of Coleus has become a popular mainstay.  That is until now!
Beginning in the early 1990's the explosion of new varieties in the Sun Coleus family has grown exponentially and with the wide array of color choices available Coleus has once again assumed its rightful place as a versatile and sought after plant choice for gardeners.  From the bright colored Coleus that electrify a border or containers to darker colors that add depth and contrast, Sun Coleus offers a little of everything for the gardener.
Coleus are easy to grow – they require well-drained soil and a semi-regular watering regimen, but beyond that work in a variety of situations – from the container to the border, as a single specimen plant that also looks great in mass plantings.   Sun Coleus will grow in shady areas, but the colors become more enhanced and vibrant in the sun.
Come check out our huge selection of Coleus and find the right color choice for your unique gardening style.  Fair warning though – it will be tough to leave with just one!
Pictured: Just a few of the varities Sunnyside is excited to carry.