Posted by Sarah on August 25th 2012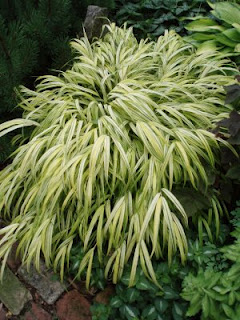 The Question:
Hello, I would love to plant lots of OGs and prairie grasses in my backyard but the problem is my backyard is very shady. Is there anything out there that will work for me? Thank you, Sarah
—Sarah
Our Answer:
Hi Sarah, There is one zone 4 perennial grass that does well in shade, the Hakonechloa, Japanese forest grass.  A cascading golden grass, 18″ long whose texture and color  will brighten any shady perennial garden. You're right, ornamental grasses and shade don't mix all that well, the result being poor coloration, floppy stature and ultimately death to the plant.
Share This Article: